In this installment of our massage therapy career series, we will go over the legal, educational, and licensing requirements to become a professional massage therapist.
Massage Therapy is a wonderful career and we hope this career series has been helpful. If you're thinking about becoming a professional massage therapist, be sure to learn more about out our massage therapy school in Miami. Our massage therapy program is approved by the State of Florida Massage Board and is nationally-accredited by the Accrediting Commission of Career Schools and Colleges (ACCSC) and Accreditation Commission for Acupuncture and Oriental Medicine (ACAOM).
Now that we've discussed massage as a medical practice and explained the difference between massage therapy, bodywork, and Asian bodywork therapy, it's time to look at the requirements for becoming a Licensed Massage Therapist (LMT).
State Regulation of Massage Therapy
As you may know, massage therapy is regulated at the state level, but you've probably not asked yourself why this is the case.
In the United States, all healthcare fields, including massage therapy, have a defined scope of practice. Licensure exists as a legal regulatory process to ensure that medical practitioners stay within their scope of practice. It also ensures that they are sufficiently qualified to practice treating the general public. As such, violating licensing and scope of practice laws may result in legal punishment.
Follow the law. You don't want to end up practicing massage in prison.
It's why surgeons cannot legally perform massage therapy, and why massage therapists cannot legally perform surgeries (although, integral medicine is letting surgeons and massage therapists work together).
Who regulates licensure for massage therapy? Massage Therapy licensure is handled at the state level, usually by a state board of massage therapy. For example, in Florida, the license to practice massage therapy is granted by the State of Florida Board of Massage Therapy.
How does the state determine the scope of practice for massage therapy? While massage therapy practice is legally regulated by the state, massage therapy competency is determined by Federation of State Massage Boards (FSMB). The FSMB is the nationally-recognized professional organization that sets the educational and training standards for massage therapists.
What are the requirements needed to become a professional massage therapist?
Specific requirements will vary from state to state, but generally speaking, in order to be legally employed as a massage therapist you will need to:
1. Meet general prerequisites
2. Successfully complete a state-approved massage therapy program
3. Pass a national-licensing examination
General Prerequisites to becoming a Massage Therapist
One of the reasons why massage therapy is a popular career choice is that the entry-level requirements to the profession are quite reasonable. Massage therapy is often a second or third career path for many people and massage therapists usually have a range of education and work experience.
She looks super happy. Being a massage therapist makes you happy.
Age: Like most other professions, the minimum age to become a licensed massage therapist is 18. You will also need a minimum of a high school or general educational development (GED) diploma.
And just in case you're wondering, the median age for professional massage therapists in the United States is 46, with roughly 22% being under the age of 35.
Background Check: Most states, including Florida, will require a criminal background check, including fingerprinting, before obtaining a professional massage therapist license. Because this is a general requirement, many massage therapy schools will also require a background check prior to applying. If this is an issue of concern to you, it is a good idea to check your state laws prior to applying and/or to bring it up with your admissions director.
Health and Self-Care: While it's not a technical requirement, it is important to keep in mind that massage therapy is (literally) a manual labor job, in the sense that you work with your hands. As such, the work can be physically demanding for some people, especially those with pre-existing conditions. To avoid burnout and long-term injury, learn to take good care of yourself early on, especially your hands and wrists, and always be sure to practice massage with proper technique.
Educational Requirements: A State-approved Massage Therapy Program
Florida and other states will require that you successfully complete a massage therapy program that is approved by the Department of Education or an equivalent licensing organization prior to applying for a massage therapist license. Typically, this will require a program to be minimum of 500 hours long, though most approved-massage therapy programs are longer, and it will require the program to include specific classes, such as Anatomy.
How do I find out if a particular massage therapy school or program is approved by my particular state? The easiest way to find if a particular massage therapy is approved is to check the list of approved massage therapy programs, which is maintained by State Board of Massage Therapy in your state or in the state in which you will want to practice. For example, Florida Board of Massage Therapy lists Acupuncture and Massage as an approved massage therapy school.
It is also worth mentioning that a state-approved massage therapy program does not necessarily mean that the same program is accredited, which is done at national and regional levels.
Later on in this series, we will discuss what to look for in a massage therapy program in great detail.
Licensing Examination: Massage and Bodywork Licensing Exam (MBLEx)
Assuming you meet general legal requirements and graduate from a state-approved massage school, you will still need to pass the Massage and Bodywork Licensing Exam (MBLEx), which is the national entry-level licensure examination that determines professional competency in massage therapy and bodywork.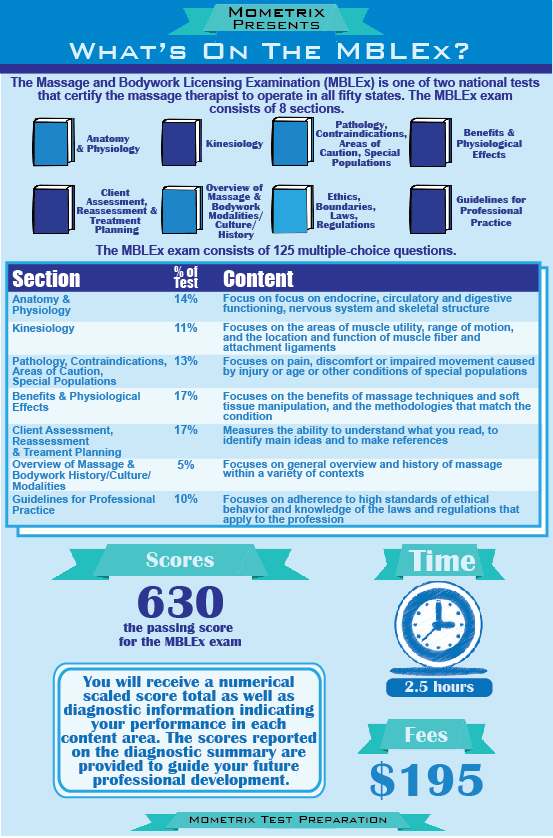 The MBLEx is administered by the Federation of State Massage Boards (FSMB), the professional massage therapy organization we mentioned earlier.
Because the MBLEx is required in Florida and almost every other state, MBLEx pass rate should be a major-decision factor to consider when looking to apply to massage therapy schools, because it is a general indication of the quality of education of the program. For example, for the past 3 years, an average of 80% of the massage therapy students at Acupuncture and Massage College have passed the MBLEx on their FIRST attempt!
Finally, you're a Licensed Massage Therapist!
After successfully completing massage school, passing the MBlex, and being granted a state-license to practice massage therapy, you are professionally and legally qualified to work as professional massage therapist and you even get a cool new title: LMT (Licensed Massage Therapist).
Massage Therapy at Acupuncture and Massage College
Learn more about our Massage Therapy program in Miami, FL by visiting our program page or by calling us 305-595-9500. If you're in the Kendall area of Miami, we're located next to the Kendall Mall at 10506 North Kendall Ave, Miami, FL 33176. Be sure to download our Massage Therapy career guide by clicking the image below.